news highlights
Vivien L. Yap, M.D. Joins Division of Newborn Medicine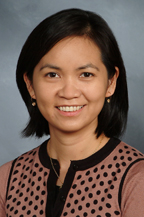 The Department of Pediatrics is pleased to welcome Vivien L. Yap, M.D. to the Division of Newborn Medicine. Dr. Yap's primary clinical and research interests are in the brain injury of the newborn. She is board-certified in both Pediatrics and Neonatal-Perinatal Medicine. In addition to her clinical responsibilities, Dr. Yap serves as the Fellowship Director for the Neonatal and Perinatal Medicine Fellowship at NYP/Weill Cornell.
Dr. Yap completed her undergraduate and graduate degrees at the University of the Philippines (B.S. in Molecular Biology and Biotechnology, and Doctor of Medicine). She went on to complete her Pediatrics residency at the Penn State Milton S. Hershey Medical Center in Hershey, Pennsylvania, and a Neonatal-Perinatal Medicine Fellowship at NewYork-Presbyterian/Weill Cornell Medical Center. Following her fellowship, she worked at the University of Arkansas for Medical Sciences and the Arkansas Children's Hospital as an Assistant Professor and attending neonatologist.
Recent Publications:
Mulkey SB, Yap VL, Swearingen CJ, Riggins MS, Kaiser JR, Schaefer GB. Quantitative Cranial Magnetic Resonance Imaging in Neonatal Hypoxic-Ischemic Encephalopathy. Pediatric Neurology 2012; 47:101-108.
Mulkey SB, Yap VL, Kaiser JR. Strength in Numbers: Over 100 Cooled at Arkansas Children's Hospital. The Journal of the Arkansas Medical Society. 2012;108(8):168-169.
---
Contact Dr. Yap
Division of Newborn Medicine 212-746-3530
weillcornell.org/physician/vivienyap/index.html
Neonatal and Perinatal Medicine Fellowship Information:
www.cornellpediatrics.org/education/neonatology.html