The Whitney~Harkness Society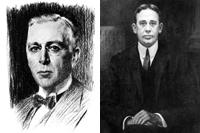 Edward Harkness and Payne Whitney
Payne Whitney was a noted financier, sportsman and philanthropist of the early 20th century descended from a long line of leaders in American government and industry. Edward Harkness was the son of prominent philanthropists and personally was the benefactor of social welfare, cultural and educational institutions. Together they shared a common dual mission: to build purposeful bridges between complementary institutions and to provide for their lasting alliances. They were most successful in meeting that agenda.
In 1924, Payne Whitney provided The Society of the New York Hospital with the land upon which NewYork-Presbyterian Hospital/Weill Cornell Medical Center is located today. In 1922, Edward Harkness, along with his family, donated the land comprising the current site of NewYork-Presbyterian Hospital/Columbia University Medical Center. He and his family also provided the funds needed to erect the original Presbyterian Hospital building. Both gentlemen also recognized the importance of hospital affiliations with top-tier medical schools and were driving forces and financial supporters of the affiliations with Cornell Medical College and Columbia University's College of Physicians and Surgeons.
The values and goals of these two live on today within the Whitney~Harkness Society, established in recognition of these two important visionaries and prominent benefactors. And just as Mr. Whitney and Mr. Harkness provided for the future of medicine, so do today's members of the Whitney~Harkness Society with their generous bequests and other planned gifts that help build NewYork-Presbyterian Hospital's endowment or a specific area of the Hospital of the donor's choice. Gifts can support operating expenses, facilities enhancements, leading-edge research, programmatic needs, patient care - and can address a donor's specific area of interest.
Membership: How to Join & Benefits
The Whitney~Harkness Society brings together people who have created charitable gift plans to ensure the Hospital's future as a world-class medical center. There is no minimum donation required for membership, and you may choose to have your membership remain anonymous. But in gratitude for your gift planning and as a valued member of the Whitney~Harkness Society, you will receive:
The possibility of lowered estate, income and capital gains taxes;
The ability to provide increased income for yourself, a family member and/or another person of your choosing, either immediately or at a designated point in the future;
Invitations to the Society's annual recognition events, gift and estate planning presentations and health education seminars;
Your name published with your permission in the Hospital's Annual Report and other Hospital publications;
The personal gratification afforded by the knowledge that your gift plan contributes to the stability and growth of a world-class healthcare institution.
Top of page